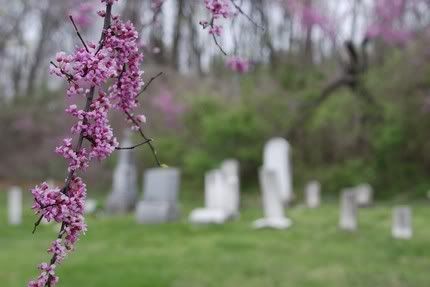 Now Martha said to Jesus,
"Lord, if You had been here, my brother would not have died. But even now I know that whatever You ask of God, God will give You."
Jesus said to her,
"Your brother will rise again."
Martha said to Him,
"I know that he will rise again in the resurrection at the Last Day."
Jesus said to her,
"I am the Resurrection and the Life. He who believes in Me, though he may die, he shall live. And whoever lives and believes in Me shall never die. Do you believe this?"
She said to Him, "
Yes, Lord, I believe that You are the Messiah, the Son of God, who is to come into the world."
Jesus wept. Then, from that day on, they plotted to put Him to death.
Then, six days before the Passover, Jesus came to Bethany, where Lazarus was who had been dead, whom He had raised from the dead. The next day a great multitude that had come to the feast, when they heard that Jesus was coming to Jerusalem, took branches of palm trees and went out to meet Him, and cried out:
"Hosanna! 'Blessed is He who comes in the name of the LORD!' The King of Israel!"
Then Jesus, when He had found a young donkey, sat on it--as it is written:
"Fear not, daughter of Zion; Behold, your King is coming, Sitting on a donkey's colt."
But Jesus answered them, saying,
"The hour has come that the Son of Man should be glorified. Most assuredly, I say to you, unless a grain of wheat falls into the ground and dies, it remains alone. But if it dies, it produces much grain. He who loves his life will lose it, and he who hates his life in this world will keep it for eternal life. If anyone serves Me, let him follow Me; and where I am, there My servant will be also. If anyone serves Me, him My Father will honor."
Then Jesus said to them,
"A little while longer the Light is with you. Walk while you have the Light, lest darkness overtake you. He who walks in darkness does not know where he is going. While you have the Light, believe in the Light, that you may become Sons of Light."
These things Jesus spoke, and departed, and was hidden from them.
"I have come as a Light into the world, that whoever believes in Me should not abide in darkness."
Now before the Feast of the Passover, when Jesus knew that His hour had come that He should depart from this world to the Father, having loved His own who were in the world, He loved them to the end.
"A new commandment I give to you, that you love one another; as I have loved you, that you also love one another. By this all will know that you are My disciples, if you have love for one another."
Jesus said,
"Let not your heart be troubled; you believe in God, believe also in Me. In My Father's house are many mansions; if it were not so, I would have told you. I go to prepare a place for you. And if I go and prepare a place for you, I will come again and receive you to Myself; that where I am, there you may be also. And where I go you know, and the way you know."
And Jesus said to him,
"I am the way, the truth, and the life. No one comes to the Father except through Me.
"Most assuredly, I say to you, he who believes in Me, the works that I do he will do also; and greater works than these he will do, because I go to My Father. And whatever you ask in My name, that I will do, that the Father may be glorified in the Son. If you ask anything in My name, I will do it. If you love Me, keep My commandments. And I will pray the Father, and He will give you another Helper, that He may abide with you forever--the Spirit of truth, whom the world cannot receive, because it neither sees Him nor knows Him. But you know Him, for He dwells with you and will be in you.
Peace I leave with you, My peace I give to you; not as the world gives do I give to you. Let not your heart be troubled, neither let it be afraid."
exerpts from John's gospel, chapters 11 thru 14 NKJV